from Michael Ondaatje: The Divided Man The Guardian UK
……..This no man's land between real and invented lives is one in which Ondaatje is quite at home. In 1983, he published Running in the Family, a highly entertaining and evocative semi-autobiographical account of a journey he made into his family's past, a palimpsest of Tamil, Dutch and British colonial mayhem. Recalling the reckless years of 1920s Ceylon, Ondaatje describes gun fights over a game of croquet, compulsive horse racing, and epic nights of dancing, drinking, skinny-dipping and chemin de fer, in which anyone could have "drowned or fallen in love."
Ever the fabricator, he was at pains to stress that his exhilarating portrait of his parents and their families – the elopements, unrequited loves and vendettas of the Ondaatjes – was unreliable. "In Sri Lanka," he writes, in a kind of credo, "a well-told lie is worth a thousand facts."
As far as orgins go, "Ondaatje was probably a Tamil name, originally from India, but I'm not much of a Tamil now," he confesses. "I can't speak the language, apart from a few rude words." He resists a public identification with Sri Lanka, though he still has plenty of family there. "I really don't want to become the representative of a country."
Blood lines and ancestry do not lie. From his mother's side, he "got a sense of the dramatic, the tall stories, the determination to now and then hold the floor". Both his parents, he says, "were hams of a very superior sort", and he seems to have inherited their love of the theatrical, a taste for mystery, illusion and make-believe. At the same time, from his father, whose unforgettable episodes of outrageous public behaviour on the Ceylon railways animate the best moments of Running in the Family, he acquired a love of secrecy and an instinctive desire to be private, even reclusive.
Added to this dual inheritance, intro- and extrovert, the child Ondaatje, youngest of four, was caught up in the protracted crisis of his parents' divorce. Connect the memoir of Running in the Family with the fiction of The Cat's Table and you find a small boy expelled from a Sri Lankan paradise in search of maternal love under the chilly grey skies of 50s London. When this happened, Michael Ondaatje was all alone, not even a teenager. Puzzling over it now, he comments that "I would not send an 11-year-old child on a three-hour train ride, let alone a three-week boat trip."
That was 1954. Perhaps it's no wonder he can remember almost nothing about this voyage, apart from some diving in the limpid waters of the Gulf and a few games of aft-deck ping-pong. Instead, he says, he made it up. He created an 11-year-old boy nicknamed "Mynah" and gave him two imaginary friends, Cassius and Ramadhin, and set them loose for 21 days on the liner Oronsay in a "Boy's Own adventure".
On the surface, at first reading, The Cat's Table is a sequence of shipboard yarns, by Golding out of Kipling. It is a tale of boys released from parental control, "bursting all over the place like freed mercury", wondering at the strange demise of the fabulously wealthy Sir Hector da Silva, and puzzling over the crimes of a mysterious shackled prisoner whose fate will linger long into their adult imaginations.
Simultaneously, however, The Cat's Table is a much darker book about a kind of orphan boy, and the inexplicable things parents do to their children. Below the waterline, in the unconscious part of Ondaatje's imagination, there is a chilling parallel story of exile, loss and colonial displacement that the mature writer is still grappling with.
Consider, for instance, his fictional protagonist, "Mynah". At the outset, the narrator "tries to imagine who the boy on the ship was" and describes him "smuggled away accidentally, with no knowledge of the act, into the future". By page 88, the anonymous narrator begins to refer to "the Dulwich College library" (Ondaatje's old school) and on page 134, we find his family addressing him as "Michael", not Mynah. A few pages later, this Michael is confessing, "I am someone who has a cold heart. If I am beside a great grief I throw barriers up so the loss cannot go too deep or too far."
Is this Michael Ondaatje confiding his inner life? Certainly not, says Ondaatje, who insists that this "Michael" is a total invention. "I'm not being evasive," he says. "When 'Michael' appeared, as I was writing, it was kind of a shock. But it did allow me more intimacy with the subject." His invented Michael gives the writer an inbuilt escape-route, and Ondaatje is a man who could talk his way out of a suitcase. How much, for example, can the reader trust a line such as: "When I did meet my mother eventually, on the docks at Tilbury, she had become 'another', a stranger." Is this the "colouring" of memoir or fiction? That's a question haunting every page of The Cat's Table.
For children, from East or West, the psychic drama of empire was always to do with parental separation. Kipling, Wodehouse, Orwell, Rushdie, and even Naipaul: the roll-call of writers made by what Conrad called "the tussle with the sea" is a commonplace of Commonwealth literature. When he was put on board the Oronsay, the young Ondaatje's main anxiety, probably closer to terror, was how his mother, waiting at Tilbury, "could know when exactly I would arrive. And if she would be there."
Worse, his mother, Doris, had left Colombo for England five years previously, following her divorce from Mervyn Ondaatje. She would be searching for a little boy she might not recognise, armed only with a recent black and white shapshot of her younger son. "I heard 'Michael'," he writes, "and it was a voice scared of being wrong. I turned and saw no one I knew. A woman put her hand on my shoulder and said 'Michael'. When I saw her face I knew it was her face."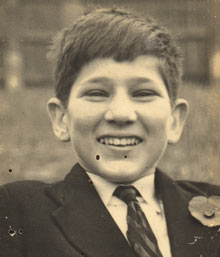 Michael Ondaatje as a child. Photograph: Michael Ondaatje
Michael Ondaatje as a child. Photograph: Michael Ondaatje
What followed, in postwar England, falls outside the adventures of The Cat's Table, though Ondaatje makes a number of oblique allusions to it. The Ondaatje family forged a new life as immigrants, against the odds. Back home in Sri Lanka, Mervyn Ondaatje drank himself to death. In London, Doris, who had worked at the Grand Oriental Hotel in Colombo, supported her family through school by working in hotels until the day she died. Once, his parents had been scions of the best and wealthiest families in Ceylon. Now they were almost destitute.
Somehow, his mother scraped up enough money to send young Michael to Dulwich: "a real education", he says, but still a shock. "I had been part of a world in Sri Lanka which I understood," he remembers. "When I came to England I had to change everything." The games and "the anarchy" of Dulwich became an experience he loved, but it did not make him a writer, yet. He revelled in the double life of English boarding school, and acquired a nickname, "Kip". His brother, Christopher, had emigrated to Canada and then, in 1962, Ondaatje followed. Before that, he concedes, "in London, I didn't have a clue, I was lost."
Canada saved him. At Queen's University in Ontario, he fell under the spell of a teacher named Arthur Motyer [see footnote] with whom he "discovered writing and reading. I had never thought about being a writer, but [Motyer] changed my life." Not yet 20, he married a Canadian artist, Kim, and had two children, now grown up. This is a side of his life he prefers not to discuss; he and Kim are long divorced.
He began to write poetry, making his debut with The Dainty Monsters and The Man With Seven Toes, and then found "this curious desire to write prose". His first success, The Collected Works of Billy the Kid, is a volume of poetry that hovers lyrically on the edge of narrative, in a genre that's hard to define. His best novels – Coming Through Slaughter, In the Skin of a Lion and The English Patient – followed in a surge of creative confidence.
The Academy Award-winning movie of The English Patient starring Ralph Fiennes, Juliette Binoche and Kristin Scott Thomas, directed by Anthony Minghella, propelled him to a level of international celebrity he found uncomfortable. Some 15 years on, he lives quietly in Toronto, entertaining visitors with his second wife Linda Spalding, a novelist, and seeing his children and grandchildren. "I'm very close to my family," he says.
It was his children, asking about his fractured youth, who inspired The Cat's Table. All these years, that boyhood boat trip on the Oronsay had lurked unresolved in the back of his mind. "I read somewhere," he says sadly, "that people who lose their childhood eventually have to retrieve it." Typically, it has become a family project: he recently met an old aunt with a precise recollection of the young Ondaatje describing the voyage of the Oronsay with tremendous self-confidence. "What wouldn't I give for a three-minute video of that moment," he exclaims.
Ondaatje once wrote, of his parents and grandparents, that "until the war, nobody really had to grow up". In some ways the Michael Ondaatje who stepped on board the Oronsay in 1954 has never grown up; he remains elfin, mischievous and inclined to truancy. Having lost his childhood as a boy, he has continued to revisit it, in odd and unlikely ways. If Tolstoy, Conrad and Coetzee had not pre-empted him, he says he would have called his novel Youth.
As a contented 60-something, he loves games, thrives on tales of embarrassment and merrily admits to being "incorrigible". Asked about his juvenile side, he unfolds from his wallet a Robert Frost quotation and reads it out in self-affirmation: "What we do when we write represents the last of our childhood. We may for that reason practise it somewhat irresponsibly." It's probably this air of carefree improvisation that makes Ondaatje such an original. To explain himself, he cites the Eastern aesthetic tradition. "In the East, the artist follows the brush," he says with finality.
As an artist working in poetry and prose, Ondaatje celebrates the creative mystery and its unpredictable wonders. He likes the idea of accidents in his writing, and the happy irruption of the unexpected in these unreliable tales of his childish self. I suggest, as we discuss this, that he's a bit of an escape artist, and he cheerfully agrees, "I like to leave the door open". No writer likes to be pigeon-holed: "The minute someone says, 'You are this kind of person,' my instinct is to reply, 'No I'm not!'"
Recently, visiting Sri Lanka on a Red Cross mission after the tsunami, he came across a small village on the south east coast that bore his name, phonetically rendered in the local language as "Ondachchimadam", a town inhabited by people who make sacred objects for temples. Delighted by the "much prettier" naturalisation of "my fake Dutch name", his first thought was that "I really wanted to change my name to Ondachchimadam." He laughs. "Could I get away with that?"
http://www.guardian.co.uk/books/2011/aug/28/michael-ondaatje-the-divided-man
Sri Lanka Colombo Chetty Family Genealogy
ONDAATJE (Ondaatchii, Ondache), Michael Jurie (Jurgen) – Family #7000
The Ondaatchiis (Ondaatje) were, originally, from Tanjore South India. Michael Jurie (Jurgen) Ondaatchi was physician to the King of Tanjore. He was summoned by the Dutch Governor Adrian Van der Meyden, in 1659, to treat his sick wife. He treated her with a bath of water in which 23 jungle herbs were boiled. The Dutch Governors wife recovered. Ondaatchi was converted to Christianity in 1660, married a Portuguese wife, Magdalene de Cruz (1640-1688), and adopted the name "Michael Jurgen Ondaatch". He died in 1714. His son Rev William Jurgan Ondaatchi married Hermina Quint of Holland. Their son was Peter Philip Juriaan Ondaatchi (1758-1814) He had his entire education in Holland. He was a distinguished academic, and poet, publishing books on physics, philosophy and history. Michael Jurie Ondache (Ondaatje), a celebrated physician of the Palace of Tanjore was invited by the first Dutch Governor of Ceylon, Van de Meyden, to cure his lady of a serious ailment. [Note variations of spelling for the family name. Currently the "Ondaatje" is being used by the descendants
Michael Jurie Ondaatje arrived in Ceylon on June 9, 1659 from Tanjore in India.
His success in curing the lady made the Governor his friend. In appreciation of his services and performance he was appointed the First Doctor of the Town of Colombo. He became a convert to Christianity and was the founder of the family that bears his name. He died in 1714.Dr. Peter Philip Juriaan Quint Ondaatje was born in Colombo and served as a physician to the first Dutch Governor. He was educated in Holland and after a distinguished scholastic career obtained a Ph.D and J.U.D. from Leyden and Ultrecht. While at Ultrecht he had the honor of becoming the first Asian to figure prominently in modern European politics and history.
In 1811, Napoleon I nominated him to the Imperial Council of Prizes and in 1814 he was named a High Court Justice of The Netherlands. He died in 1818 on his way to take up a civil service appointment in Batavia. He is also credited with many works on physics, political philosophy, and history.
There is a tombstone in St Thomas Church Gintupitiya which reads "Natalia Aserappa wife of Philip Jurgen Ondaatchi 1787-1812 d age 25" (Running in the Family, Michael Ondaatchi p66) Dr William Charles Ondaatchi was the first Ceylonese Director of the Royal Botanical Gardens Peradeniya. He introduced the olive to Ceylon. Rev. Jurgen Ondaatchi was translator and Chaplain. His son Simon was the last Tamil Colonial Chaplain of Ceylon.
Philip Mervyn Ondaatje 1906-1955
Mervyn Ondaatje b:1906 in Kegalle, Ceylon (Rock Hill House), served as a Major in the CLI during World war 2, and later was a planter, was sent to University in England by his parents and left Ceylon by ship and arrived at Southampton. Took his entrance examination for Cambridge but didnt puruse an educvational career at the University. Was once engaged to Kaye Roseleap, a close friend of his sister Stephy. d:1955, married Doris Gratiaen, b:1905 (d/o Willy Gratiaen en Lalla Keyt & brother of Noel Gratien), m:11-Apr-1932. Lived in Kegalle, Ceylon most of his life.
Michael Ondaatje 1943 –  Emory University English Department article   
Michael Ondaatje was born on September 12, 1943 in Colombo, Ceylon (now Sri Lanka). The son of Mervyn Ondaatje and Doris Gratiaen, prominent members among the inhabitants of what once comprised Ceylon's colonial society. Mervyn Ondaatje was a tea and rubber-plantation superintendent who was afflicted with alcoholism. Doris Gratiaen performed part-time as a radical dancer, inspired by Isadora Duncan. As a result of his father's alcoholism, Ondaatje's parents eventually separated in 1954 and he moved to England with his mother.
Ondaatje was educated initially at St. Thomas College in Colombo, Ceylon. After moving with his mother to England, he continued his education at Dulwich College in London. Between 1962-64, Ondaatje attended Bishop's University in Lennoxville, Quebec. He then went on to obtain his B.A. at the University of Toronto in 1965, and his M.A. at Queen's University, in Kingston, Ontario, in 1967. Ondaatje began his teaching career at the University of Western Ontario, London between 1967-71. Today he is a member of the Department of English at Glendon College, York University in Toronto, Ontario, a position he has held since 1971.
Ondaatje currently resides in Toronto with his wife, novelist/editor Linda Spalding, where they edit Literary Magazine. During his career Ondaatje has received numerous awards and honors. He was awarded the Ralph Gustafson Award, 1965; the Epstein Award, 1966; and the President's Medal from the University of Ontario in 1967. In addition, Ondaatje was the recipient of the Canadian Governor-General's Award for Literature in 1971 and again in 1980. Also in 1980 he was awarded the Canada-Australia price and in 1992 he was presented with the Booker McConnell Prize for his novel The English Patient.
Michael Ondaatje the renowned author and Booker prize winner, descendant from this Ondaatje line as is his brother Sir Christopher. There is reference to the Ondaatje family in Christopher Ondaatje's book "The man eater of Punanai 1992.
http://www.rootsweb.ancestry.com/~lkawgw/gen7000.html
from "3000 book blog"
…….What I did have in my mind after reading Running in the Family, though, was a wonderful, intimate portrait of 1920s Sri Lanka, then called Ceylon. Though Ondaatje is well known for his fiction, including Booker Prize winner The English Patient, he is also a poet and non-fiction writer, and now lives in Canada. Running in the Family was a product of multiple visits Ondaatje took to the land of his childhood and is the product of his attempts to comprehend and reconstruct those years. Though it can be classed as a memoir, Ondaatje alludes to his process of storying the material: 'I must confess that the book is not a history but a portrait or "gesture"'. If it is to be termed as such, then this book is a gesture of grace and colour; a promise to bear, carry and perform history as if drunk on memory.
lcolonised Sri Lanka has a fascinating and tortuous history, and its parapets and creoles multiply with alarming alacrity for a reader unversed in that history. It's pleasing, then, that while this book has a personal, familial focus, it can also illuminate certain aspects of the events that shaped the island nation. Ondaatje, as a scion of a well-known Burgher family, is well positioned to cast light on some of those events. At one point, he visits with John Kotalawela, Sri Lanka's third Prime Minister, who served in the Ceylon Light Infantry with Ondaatje's father, Mervyn. But this is not a political memoir; it is a personal one, and Ondaatje's telling of the meeting is dominated by the fact that the animals in the household were fed before the people, while the meeting itself centres around the wildness Kotalawela remembers in Ondaatje's father.
Of all the memorable personalities that appear in Running in the Family, and there are many, Mervyn Ondaatje is one of the most arrestingly portrayed. Sent down from Oxford University for a prank, Mervyn was a 'veriest rogue' kind of fellow: wilful, changeable and a terrible dipsomaniac for a good part of his younger years. Thoughtful and loving when sober, and unstoppably manic when inebriated, Mervyn once took off all his clothes on a train and threatened the driver with death unless he stopped the train. He proceeded to then go through all the passengers' luggage, claiming that bombs were secreted there. When he lined up the 'bombs' outside, they were pots of buffalo curd, a common Sri Lankan foodstuff. Tales such as these are not told with bitterness or aggression, but rather keen curiosity and tenderness.
Just as Running in the Family is not a political memoir, neither is it a linear one. Short chapters with headings like 'The Courtship', 'Monsoon Notebook (i)' and 'St. Thomas' Church' are interspliced with pictures of the Ondaatje family and their friends, including the only picture the author has of his parents together: an expensive black-and-white portrait in which they are both making mischievous monkey faces rather than the staid smiles dictated by the age. In some instances, Ondaatje chooses to interpret his recollections through the medium of poetry, and though his poems are strikingly heart-on-sleeve (or they were for me, obedient denizen of a satirical age), they are also strikingly, heavily evocative and often sensual, as in 'The Cinnamon Peeler':
I buried my hands
in saffron, disguised them
over smoking tar,
helped the honey gatherers
And of course, through the filter of Ondaatje's anecdotes, the wondrous splendour of Sri Lanka itself is radiantly apparent. Despite its political troubles, it is a land of diverse beauty and the source of innumerable stories. Whether detailing the procedure with which he would, as a young boy, ride the giant kabaragoya and thalagoya lizards over a wall; or writing about 'the most beautiful alphabet' of the Sinhalese language, 'created without straight lines because the locals wrote on brittle Ola leaves that would fall apart if a straight line was wrought through it'; or explicitly treating the many names and identities – Serendip, Ratnapida, Taprobane, Zeloan, Zeilan, Seylan, Ceilon, Ceylon – of his home country, Ondaatje continually adverts to the multifaceted allure of Sri Lanka. Since it is Ondaatje, this is done, as are all other tasks in this book, with deceptively casual grace.
In Running in the Family, Ondaatje writes of 'a house that is an island', and this book could easily be subtitled 'an island that was many lives'. With prose – and sometimes verse – that easily echoes the gravid air of Sri Lanka and the lyrical anarchy of his parents' social set, Ondaatje uncovers a series of familial narratives with sweetness and a meandering intent that are lovely to behold.
http://www.3000books.com.au/2010/01/running-in-the-family-michael-ondaatje.htm