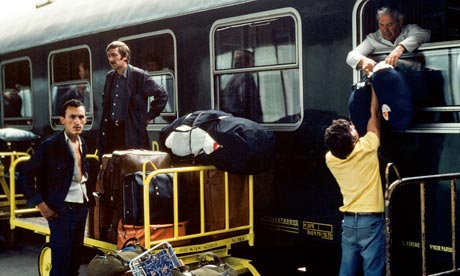 On the way … Soviet Jewish refugee families arrive at the Vienna Sudbahnhof in the late 1970s. Photograph: © Nathan Benn/Ottochrome/Corbis
20 UNDER 40: Q. & A.DAVID BEZMOZGIS JUNE 14, 2010
David Bezmozgis was featured in The New Yorker's 20 Under 40 Fiction Issue. His story, "The Train of Their Departure," appeared in the August 9, 2010 issue.
When were you born?
June 2, 1973.
Where?
Riga, Latvia.
Where do you live now?
Brooklyn, New York.
What was the first piece of fiction you read that had an impact on you?
It was a short novel called "Friedrich," by Hans Peter Richter. It's told from the perspective of a German boy, who witnesses the persecution and ultimate death of his Jewish friend, the Friedrich of the title. I was probably eleven or twelve when I read it, and I still remember a few of the scenes vividly.
How long did it take you to write your first book?
I wrote the first story that ultimately ended up in my book in 1999. I wrote most of the others in 2001. "Tapka," which ran in The New Yorker, was the last story I wrote for the book. I wrote it in 2003.
Did you ever consider not becoming a writer?
Since I easily imagined that I'd never get published, I considered doing other things. As a fallback plan, I went to film school and trained as a film director. This was my attempt at pragmatism. I have also taught. When things are going badly, I still consider doing other—legitimate—things. Considering doing other—legitimate—things sometimes feels like a second career.
What, in your opinion, makes a piece of fiction work?
The best way I can articulate it is to say that a piece of fiction—or really any work of art—has to have at its core some kind of irretrievable loss. There are an infinite number of irretrievable losses—we experience new ones every day. The form of the story, through its language and tone, must then honor that loss without drifting into parody on one side or melodrama on the other—with melodrama being the lesser crime.
What was the inspiration for the piece included in the "20 Under 40" series?
I wanted to write about the peculiarities and contradictions of romantic life in the Soviet Union. I was six when I left the Soviet Union, so I never experienced this life, but I grew up around many people who did. The Soviet Union seems to exist in the American imagination as a dour place, when it wasn't like that at all. Except when it was.
What are you working on now?
A novel called "The Free World," from which this excerpt derives.
Who are your favorite writers over forty?
J. M. Coetzee, Cees Nooteboom, Ludmila Ulitskaya, Denis Johnson, Jeffrey Eugenides, Deborah Eisenberg, Mavis Gallant, Jonathan Franzen, Francine Prose, Mary Gaitskill, Tobias Wolff.
http://www.newyorker.com/fiction/features/2010/06/14/100614fi_fiction_20under40_qa_david-bezmozgis 
Biography
David Bezmozgis is an award-winning writer and filmmaker. David's stories have appeared in numerous publications including The New Yorker, Harpers, Zoetrope All-Story, andThe Walrus. His first book, Natasha and Other Stories, was published in 2004 in the US and Canada and was subsequently translated into fifteen languages. Natasha was a New York Times Notable Book, one of the New York Public Library's 25 Books to Remember for 2004, and an Amazon.com Top 10 Book for 2004. Natasha was nominated for the Guardian First Book Award (UK), the LA Times First Book Award (US), and the Governor General's Award (Canada). It won the Toronto Book Award and the Commonwealth Writer's Prize for First Book.
He has been a performer at The New Yorker Festival (2005 & 2009), The UCLA Armand Hammer Museum (2007), and the Luminato Festival (2008). His work has been broadcast on NPR, BBC, and the CBC, and his stories have been anthologized in The Best American Short Stories 2005 & 2006.
In 2006, David was a screenwriting fellow at the Sundance Labs where he developed his first feature, Victoria Day. The film premiered in competition at the Sundance Film Festival in 2009, had a theatrical release in Canada, and received a Genie Award nomination for Best Original Screenplay.
In the summer of 2010, David was included in The New Yorker's 20 Under 40 issue, celebrating the twenty most promising fiction writers under the age of forty.
David has been a Guggenheim Fellow, a MacDowell Fellow, and a Dorothy and Lewis B. Cullman Fellow at the New York Public Library. He is currently a fellow at the Harvard/Radcliffe Institute for Advanced Study.
The Free World, David's first novel, was published in April 2011 in the U.S. Canada, the UK, and Holland. Subsequent translations will appear in Germany, Italy, France, Israel and Spain. It was shortlisted for the Scotiabank/Giller Prize and the Governor General's Award.
Born in Riga, Latvia, David immigrated to Toronto with his parents in 1980.
From The Jerusalem Post 05/09/2011

The Soviet Emigre Experience : Author David Bezmozgis Emphasizes the Jewish in the Soviet-Jewish Equation

 by Renee Ghert – ZhandCANADIAN AUTHOR DAVID Bezmozgis insists on differentiating himself from the characters he has created, the young Soviet Jewish émigrés who populate his fictional works. Yet, he is able to inhabit them so well and completely, that for his many readers and admirers, this highly talented 38-year-old writer and filmmaker has become the foremost literary voice of the Russian-speaking Jewish community in Canada.With the publication this past spring by Farrar, Straus and Giroux of his first novel, "The Free World," following his highly acclaimed 2004 collection of short stories titled "Natasha" and his 2009 feature film "Victoria Day" – all chronicling the lives of Soviet Jews in various stages of immigration to Canada – it is evident that Bezmozgis has drawn copiously from his own personal narrative. Bezmozgis immigrated to Toronto at the age of seven with his parents from Riga, Latvia, in 1980.
Unlike other authors who are eager to venture into new territory with each work, Bezmozgis feels that he has yet to finish exploring and interpreting the Jewish Soviet émigré story. "I think there's a lot to be said about that experience," he tells The Report, as he explains the pull he feels toward writing about what he knows and feels most emotionally connected to.
"The first book, 'Natasha,' talks about what it's like to arrive in a new country, what it's like to arrive in North America and the experience of Soviet émigrés – Jewish émigrés – which I hadn't seen anybody write about… I was fascinated by the story and it meant a lot to me. And there was a whole other part of that story, which preceded it, which I couldn't really address in 'Natasha,' but I wanted to. So that is the reason for 'The Free World.' I see the two books as complementing each other, as together telling the story of that experience – backwards, I guess, because 'Natasha' came first."
"Natasha," winner of the Canadian Jewish Book Award, the City of Toronto Book Award, the Commonwealth First Book Prize, the Reform Judaism Prize for Jewish Fiction, the JQ Wingate Prize, and shortlisted for many others, is a collection of interrelated stories about young Mark Berman, his parents and extended family, who fled Brezhnev-era Riga for Toronto. They chronicle Mark's development from a little boy to a young man, and his family's progress from a stressful, confusing and financially-strapped arrival in Canada to a comfortable middleclass existence.
THE CULTURAL DIFFERences, misunderstandings and tensions between the newly arrived Russians and the established Toronto Jewish community punctuate almost every one of the seven stories in the collection. "I was struck by the fact he writes as an insider and an outsider. He writes as an insider about the Canadian Jewish Soviet community, about a community that is foreign but right in the middle of the wider Jewish community.
He writes as a detached outsider observing the Canadian Jewish community and its foibles," notes Edward Trapunski, who sat on the Canadian Jewish Book Awards jury that voted "Natasha" best work of fiction for 2004.
Trapunski vividly recalls in an e-mail interview with The Report that Bezmozgis "brought three generations, a whole contingent, with him to bask in the glory of this award. For the first time ever – and I think since – a winner of the Canadian Jewish Book Awards stood on that stage and spoke in Russian. It was moving for everybody."
These stories, though set in 1980s and 1990s suburban Toronto, draw upon the Eastern European and Soviet Jewish literary tradition. Indeed, there are moments when some of Bezmozgis's characters – both in "Natasha" and "The Free World" – seem as through they could have wandered in from Babel's Odessa. "David is an Old World writer in contemporary North American letters… the sheer unhurried expansiveness of his narrative is reminiscent, in particular, of the Eastern-European mode of Jewish- American storytelling, in the vein, say, of Bernard Malamud, Henry Roth or the late great Leonard Michaels, whom David himself counts as one of his strongest influences," remarks Mikhail Iossel, associate professor of English and Creative Writing at Concordia University in Montreal, and the founding director of the Summer Literary Seminars international program, in an email interview with The Report.
Iossel, a former active member of the underground literary samizdat movement in Leningrad and author of the 1991 novel "Every Hunter Wants to Know," the first book in English by a Soviet Jewish émigré of the new wave of immigrants, explains further, "It is, to my mind, [Bezmozgis's] the choice of characters, rather than the style in which the narrative of their placement is rendered, that his singularity primarily stems from. His literary antecedents wrote, by and large, about the no-nonsense, nonhighbrow, striving, practical-minded, hardworking, go-getting Jewish immigrants from the Pale of Settlement-bound outskirts of the former Russian empire – and he, alone among the small cohort of other talented and energetic Soviet-born North American authors of Jewish descent… writes with the clearest sense of empathy about the same essential type of Jewish immigrants from the Russian-occupied ethnic outskirts of the former Soviet empire."
Iossel is quick to point out that Bezmozgis emphasizes the Jewish in the Soviet-Jewish equation more than his peers in the "Soviet émigré children" generation (such as New York's Gary Shteyngart, for example), likely as a result of his family having come from Latvia, rather than the Russian parts of the Soviet Union. Thus, "the difference… most Soviet Jews living in the Russian part of the country… the ordinary Soviet citizens of Jewish descent, were the products of the self-created Soviet mythology, Soviet version of history and outlook on the world," Iossel theorizes.
"David's protagonists [from Latvia] are made of whole other cloth: they are the steadfastly immutable, tenacious Jews of the Old World, left largely unscarred by the accident of their having been born and brought up within the ugly Soviet fold…" THIS OLD WORLD JEWISH SENSIbility is front and center in Bezmozgis's new novel, "The Free World," about a family from Riga waiting months in Rome, in 1978, for immigration visas to Canada. Recounted deftly in third person from the viewpoints of three different members of the family – the Communist Party functionary and Red Army veteran Samuil Krasnansky at its head, his playboy younger son Alec, and Alec's non-Jewish wife Polina – it is a story that had, to the author's knowledge, never before been fictionalized.
"I wanted to write about what happens before a family arrives in North America… I had always been fascinated about what I had heard about Italy. I had been there as a boy, but I remembered not a lot, just a few things," he shares. "I wanted to explore this idea that people from the Soviet Union, from the East, from behind the Iron Curtain – who thought they would never come West – find themselves in the West, in Rome of all places, and what that experience was like… That sense of discovery and excitement and anxiety and all of those things."
Bezmozgis decided this transitional stay in Italy was the best place and time to position the story, as "it would justify going back [in flashbacks to what the characters' respective lives were like in Latvia], because their past is so recent and still exerts its influence on them. And then their future is imminent, but unknowable. It's just a fascinating moment in people's lives, and also a representative moment about that immigration."
In order to portray the fictional Krasnansky family's limbo-like sojourn in Rome as accurately as possible, the author lived in that city for several months in 2004.
He made sure also to spend time in Ladispoli, the nearby town in which so many Soviet émigré families whiled away the time as they waited for their visas.
"While there, I managed to find a few people who had worked for the Jewish agencies, HIAS and the Joint, and I spoke to them," Bezmozgis tells The Report. "I spoke to a lot of friends of the family, people who had been through that experience. I interviewed them. I'd heard what I'd heard from my own parents. I read whatever I could find [about the Italian experience], which wasn't very much. I read a lot about Soviet history, about WWII, a great deal about Italy during the war and post-war…When you write a novel there's an entire library –- especially for a book like this –- that kind of sits behind it. Only a small portion of it ends up in the book, but I needed all of it to inform me so I could write confidently about a place I didn't experience firsthand as a grown-up."
THE RELEASE OF "THE FREE World" to wide acclaim, as well as Bezmozgis's being named one of the top 20 fiction writers under the age of 40 by "The New Yorker" last year, attest to the author's storytelling gift that animates the Jewish Soviet émigré theme so dear to him.
"I think David is one of the most remarkable writers of his generation. I love his prose because it's fabulously clear – crystal, really – and incredibly precise. He writes with an almost old-fashioned elegance and control… When I read him, I feel wonderfully alive. I find his work moving, challenging, and beautiful," says Jared Bland, Managing Editor at "The Walrus," the prestigious Canadian literary magazine that ran excerpts of "The Free World" prior to its publication.
According to Iossel, Bezmozgis "works in clean, evolved, thoroughly detailed declarative sentences, [and] limns his characters with sharp realistic specificity." The author's contemporary and friend, the Canadian poet, playwright and author Jonathan Garfinkel (who first got to know Bezmozgis as they spent a night talking about their favorite writers and drinking Irish whiskey at the Vancouver Jewish Book Fair in 2007) also characterizes, in interviews with The Report via Skype and email, Bezmozgis's writing as "old," in the sense that "he writes careful, graceful sentences.
Words and characters brim with an internal tension that is difficult to teach. His thoughts are not rushed."
Like others, Garfinkel compares his friend to Babel, because "he does not shy away from the darkness and cynicism of the world – nor is he afraid to laugh at it, either."
He goes on to describe Bezmozgis's attitude towards the world and writing. "He has a strong moral authority; he commits to his moral vision," Garfinkel says.
THE AUTHOR'S TURN AS A screenwriter and director of a feature film provided another avenue for people to appreciate his intimate and finely honed storytelling technique. Bezmozgis, a graduate of the University of Southern California's film school, had the opportunity in 2008 to make a movie from a script he had written concurrently with the "Natasha" stories.
Bezmozgis filmed "Victoria Day," a coming of age story about Ben Spector, the teenage son of a Jewish Soviet émigré family, on location in suburban Toronto on a modest budget.
"We got a cast that didn't have movie stars in it. We cast people who were right for the roles. We cast teenagers who played teenagers, Russians played Russians and some of the people who were in the film had done very little or no film acting before. In that sense, it felt very authentic and organic.
Everyone was in it for the right reason, so I liked it a lot. It was done on the same sort of intimate and emotional scale that I think the stories were written in, just for the screen," Bezmozgis recounts.
"Victoria Day" debuted at Utah's Sundance Film Festival in 2009, and was screened at a number of international film festivals before being released in theaters in Canada. "It played for a few months. For an independent Canadian film it did quite well… and it was nice to see it out in the theater available to an audience in Canada and Toronto who knew that world," he proudly notes.
Bezmozgis would welcome the opportunity to make another film. In fact, the collaborative, social atmosphere involved in that would be a nice change from the solitariness of writing a novel, as he has been doing for the past year as a Dorothy and Lewis B.Cullman fellow at the New York Public Library. According to the Library's website, the new novel, "The Betrayers," is about a famous Russian Jewish dissident who, after the fall of the Soviet Union, meets the man who denounced him. Bezmozgis, however, is circumspect about the book. All he will say about it, as he gets ready to move back home to Toronto with his wife and two young children, is that "it's the same and different.
It has characters who could never be confused with me and my family and our experience, but it's still dealing with that history, but just in a very different way."
It seems, then, that for the foreseeable future, Bezmozgis still has what to say about the Soviet émigré experience. "So for as long as there are stories about this community that engage me, I will be telling them," he explains. "This is what I feel an emotional connection to, and for me in order to write, that's the most important thing."
"At the beginning of my career, those are the things I feel most acutely that I need to write about," he says. Judging from his success thus far, it appears that for Bezmozgis, it is, indeed, just the beginning of what will likely be a long, lauded literary career.
From The Toronto Star by Vit Wagner Staff Reporter
New York: Toronto author David Bezmozgis faced an understandable measure of adjustment when his family moved to Canada from the former Soviet Union in 1980. All of 6 at the time, he at least had the considerable advantage of being a child, with his entire life ahead of him.
"Whatever the hardest things for me were — whether it was learning the language or being comfortable as a Russian kid among Canadian kids — they were trivial compared to what an adult would have to go through," he says.
Bezmozgis, now 37, probed a boyhood experience similar to his own in the 2004 short story collection, Natasha and Other Stories, a surprisingly assured and justly lauded debut that was a contender for both the Governor General's Award and Canada Reads. The compilation of linked stories tracks the life of young Mark Berman, a transplant from Riga raised in North York's Russian émigré community.
Adults are not incidental to the stories. Mark's father, Roman, a former Soviet weightlifting coach who unsuccessfully tries to set up shop here as a massage therapist, is an abiding secondary presence. But it's mostly Mark's world — from a grade school misadventure while caring for a fellow immigrant's dog to the adolescent, pot-fuelled sexual initiation documented in the title story.
Bezmozgis has flipped the generational emphasis for his just-published debut novel, The Free World. The book was already destined to be one of the spring's most hotly anticipated releases, even before the added fanfare of its author being named last fall by The New Yorker magazine as one of the continent's 20 most promising writers under the age of 40.
Set in 1978, the tension-filled novel follows a fractious family of Soviet Jewish émigrés who, having fled Latvia, find themselves temporarily stationed in Rome while they await confirmation of their ultimate destination — whether Israel, the United States, Canada or, in the case of one of the secondary figures, Australia. The older characters are the focus, particularly two young adult brothers, Alec and Karl, and their father, Samuil, a diehard Bolshevik who didn't want to leave his beloved Soviet Union.
Although the story is only tangentially autobiographical, it happens that Bezmozgis and his family also came to Canada via Rome.
"Growing up I would hear a lot of stories, but the Italian phase always fascinated me because it was a pivot point from which you could contemplate the future and also look back at the past," he says, during an interview in his office at the New York Public Library in Midtown Manhattan, where he has a fellowship to work on his next book.
"These people never thought they were going to get out of the Soviet Union. And all of a sudden they find themselves in the West, with very little information and almost no frame of reference.
"Today, with the Internet, we have a surfeit of information to make the most trivial decisions. If you want to go to a restaurant, you go online to check out the reviews. These people had to make the most consequential decisions of their lives knowing less than we know when we go out to dinner."
The six years Bezmozgis spent working on the novel began with a four-month research stint in Rome in 2004. Partly to amplify the novel's transitory, transitional theme, he settled on the summer and fall of 1978 as a time-frame — a period when three successive popes sat in the Vatican and the Camp David peace accord was struck between Egypt and Israel.
"There was all this background stuff happening at the time — prominent, historical activity — so I felt I had to research it and know it," he says. "I had to know how the events would inform the decisions the characters made."
Bezmozgis should have an easier time researching his next novel. As one of 15 writers in residence — a group that also includes fellow New Yorker young author anointee Wells Tower — he has the resources of one of the world's great libraries at his disposal.
His functional office — furnished with a desk, computer, a coat rack and a couple of chairs — is dominated by a wall of shelves that, among other books, contain several volumes that purportedly include every reference to Jews that appeared in the Soviet press between 1961 and 1990. The books are a resource for the current work-in-progress, a novel partly set in the 1980s that concerns a confrontation between a celebrated Soviet dissident and the fellow refusenik who betrayed him to the authorities.
In the spring, Bezmozgis will return to Toronto to continue working on the book in the St. Clair-Christie neighbourhood home she shares with his wife and 2-year-old daughter. A second child is on the way.
"It will be a transition for me," he says. "I'm an only child, so the idea of having two children in a family is completely novel to me. I always wanted a sibling. And I wanted my daughter to have one."
A film graduate from the University of Southern California, Bezmozgis has also carved out a successful sideline as a filmmaker. His credits including the 2008 feature Victoria Day, which received strong reviews after premiering at the Sundance Film Festival. He would like to write and direct his own adaptation of the title story from the Natasha collection at some point, but he allows that prose is a stronger calling.
"I always wanted to write. I just had no idea how to create a professional life for myself doing that," he says.
"I come from a background where you need a profession, so I went to film school. It's a creative field, but it also leads to a definable profession. You are a director or an editor or someone like that. You can get a job. At the end of a film, there are all those credits. Each of those credits is a job."
Writing fiction is not a job in the same way, but the kind of recognition Bezmozgis has received can help to alleviate some of the material uncertainties. Job or not, it is work.
"Writing a novel is the hardest thing I've ever done," he says. "It's completely consuming. It's humbling. Every day, you constantly encounter the limitations of your own mind and have to fight through them.
"The reality never quite matches the fantasy, but having said that I feel extremely fortunate. This is what I aspired to do since I was a kid or a teenager. This was the idea of the life I wanted."
From The Backgrounder Website:
Refugee Resettlement and 'Freedom of Choice': The Case of Soviet Jewry

 by  

Fred A. Lazin

 July 2005

Editor's Note:

This Backgrounder is an illustration of the ongoing policy debate over the purpose of refugee admissions: Should resettlement in the United States be the last resort or the first resort? Should the limited number of refugee-resettlement slots be reserved only for the most desperate people in the world who lack any other options, or should the admission of refugees be treated like an ordinary immigration program? The admission of Jews escaping the USSR, described below, raised these questions in a high-profile way, but the issue continues to face us, most recently with regard to the Somali Bantu and North Koreans. ThisBackgrounder was adapted by the author from his new book, The Struggle for Soviet Jewry in American Politics: Israel versus the American Jewish Establishment (Lexington Books). Fred A. Lazin is the Lynn and Lloyd Hurst Family Professor of Local Government at Ben Gurion University of the Negev in Israel. He may be contacted at lazin@bgu.ac.il
---
Between 1968 and 1973, almost all Soviet Jewish emigres resettled in Israel. By 1975-1976, however, a near majority favored resettlement in the United States. While the government of Israel wanted all emigres to resettle in Israel, many American Jewish leaders supported "freedom of choice" — the right of Soviet Jewish emigres to choose their country of resettlement. In 1989, however, when Mikhail Gorbachev allowed free emigration for Soviet Jews and over 90 percent preferred to come to the United States, American Jewish leaders supported their government's policy to limit the entry of Soviet Jews as political refugees. The following essay traces the evolution and abandonment of the policy of "freedom of choice" among American Jewish leaders.
In 1968, when Soviet authorities allowed a small number of Jews to emigrate to Israel for the purpose of family reunification, there were no direct air links between the two countries. Most emigres traveled to Vienna where the Jewish Agency, a quasi-autonomous public agency controlled by the Israeli government and political parties and funded by Jewish communities in the United States and elsewhere, flew them to Israel. It referred Jewish emigres not wanting to go to Israel ("dropouts") to the American Joint Distribution Committee (JDC) and the Hebrew Immigrant Aid Society (HIAS) for assistance to go to other countries. These organizations moved the emigres to Rome where HIAS assisted them in getting visas and JDC provided shelter and a subsistence allowance. HIAS also coordinated their resettlement in the United States and elsewhere.
The dropout rate rose from less than 1 percent in 1971 and 1972 to 4.28 percent in 1973, 18.09 percent in 1974, 35.88 percent in 1975, and to 47.33 percent in 1976. With the increase in dropouts, HIAS, local Jewish federations, and others lobbied the U.S. government to have Soviet Jews admitted as refugees (conditional immigrants) or parolees.
Until the Refugee Act of 1980, the United States' definition of a refugee mostly involved persons fleeing Communist regimes. The definition since 1980 stipulated that a refugee is any person who is outside his/her country "and who is unable or unwilling to return … because of persecution, or a well-founded fear of persecution, on account of race, religion, nationality, membership of a particular social group, or political opinion." Therefore, after 1980, Soviet emigres had to prove to an immigration officer in Rome that they had a well founded fear of persecution. Most managed to do so. Until the late 1980s, United States policy accepted all Soviet Jews as refugees. HIAS and the Council of Jewish Federations (CJF) also lobbied …….. (more…click link below)
THE HIAS MISSION
Guided by Jewish values and our shared history of migrations, HIAS assists Jewish and other refugees and migrants escaping violence, repression, and poverty to find safety and security in the United States, Israel, and elsewhere; facilitates their resettlement and other forms of assistance through a network of local service agencies; advocates on their behalf at the international, national, and community levels; and connects each generation of Jews, one to the other.
1978
HIAS
HIAS and the JDC strain their resources to capacity in order to deal with a growing flow of emigrants from the Soviet Union. They ask the U.S. State Department to waive usual visa requirements in order to move the emigrants quickly through Rome, where the influx is causing housing shortages and other problems.
Do you suppose any of these fellows were in Rome for a few months before they came to the USA?   Harriet
"Kingmaker of Little Russia"  from The New York Times  March 11, 2012
COUNCILMAN LEWIS A. FIDLER peers at the audience in a low-ceilinged room on Coney Island Avenue with the expectant smile of the newly betrothed.
He is running for a State Senate seat and has come to the Davidzon Radio studios on a chill winter afternoon to get the endorsement of political luminaries from the densely Russian Jewish communities of south Brooklyn. A Russian-born assemblyman and Russian-born district leaders sit alongside him. Gregory Davidzon, thick-bodied, white-haired and the owner of this station, presides as the master of ceremonies.
As this is billed as a live radio interview, Mr. Fidler puts the microphone to his mouth. He'll hold that pose for many minutes before he utters a word. For Mr. Davidzon has begun rattling away into his own microphone in raspy, meaty Russian.
Mr. Davidzon, in essence and at much greater length, says this to the audience and his thousands of Russian-language listeners:
Friends, last year, in 2011, we flexed our muscle and elected a Republican, Bob Turner, to Congress. Now the state Republican Party has disrespected our community by drawing new electoral lines that divide and hurt our community. So we must teach them a lesson they will not forget and vote for Democratic Lew Fidler. He's the right man for our community. Remember: not one Russian vote for his Republican opponent!
Da?
The 90 or so older Russians, some wearing military ribbons from the Great Patriotic War, burst into applause. Mr. Fidler, who does not speak Russian, glances at the interpreter for help. Getting none, he turns and smiles beatifically, figuring that applause is good.
He would be correct. Mr. Davidzon, 53, serves as a kingmaker in Brighton Beach, Sheepshead Bay and Manhattan Beach, the neighborhoods known collectively as Little Russia. A recent census study estimated that 200,000 New Yorkers over age 5 speak Russian. Perhaps 30,000 Russians vote in south Brooklyn, and their electoral clout is indisputable. Mayor Michael R. Bloomberg, Comptroller John C. Liu, Borough President Marty Markowitz, various state senators and City Council representatives trek to Mr. Davidzon's radio station. Many appear, too, at his exuberant parties at Baku Palace, a vast wedding and bar mitzvah ziggurat of a restaurant on Sheepshead Bay. He and his radio station and newspapers reflect the political coming of age of the Russian community.
Perhaps no race demonstrated that more than last summer's special election for Anthony D. Weiner's former Congressional seat.
It is a historically Democratic district, and the Republican, Bob Turner, began the race as a decided long shot; by the September election, with the help of thousands of Russian voters and a smaller contingent of Orthodox Jews, he had trampled his Democratic opponent, David I. Weprin.
Representative Turner does not hesitate to credit Mr. Davidzon. The reach of Davidzon Radio, he notes, was almost comically broad. Mr. Turner's staff fielded Election Day calls from angry Russian voters in the Bronx who had shown up at polling places demanding the right to "vote for Bob."
Mr. Turner's district extends nowhere near the Bronx.
"He would put me in front of the movie theater in Brighton, pick up a megaphone and start calling people to come over and meet me," Mr. Turner recalled, laughing. "I don't know what he said, but I can't overstate his influence."
Mr. Davidzon, who harbors political ambitions of his own, relies on electoral tools both modern and old-fashioned. He studies electoral districts, sends mailings, unleashes robo-calls and talks up the candidate on his radio show. Unlike more conventional English-language media outlets, he bills most candidates for his post-endorsement services (albeit more modestly than most campaign consultants in New York). He also listens and worries and listens some more. The raccoon circles that ring his brown eyes speak to many 3 a.m. epiphanies.
"We have 5,000 calls per day at this radio station, and I listen to every one," he said. "One wrong step and they call: 'Why you doing this!' And I say: 'Guys, you're right! I was wrong.' "
He shrugged and said, "We track community, and the community tracks us."
New York City politics, however, are an unsentimental game.
The lines of electoral districts at the state and federal levels are being redrawn to reflect population changes. This winter, State Senate Republicans released a proposed redistricting map that would dilute Russian voting power by dividing it among three districts. The Senate Republicans, it turns out, chose to cast their lot with the Orthodox Jews and Hasidim who live farther north. There, the Republicans proposed a so-called super-Jewish district.
Led by Mr. Davidzon, the Russians of Brooklyn hope to exact revenge by backing Mr. Fidler. That decision comes encoded with risk. Mr. Fidler's opponent, David Storobin, is a lawyer and political neophyte; he also is a Russian-born Jew running an energetic campaign.
Mr. Davidzon professes no worry about this election. He points to a sign at his radio station, "Not One Russian Vote."
A former Democratic assemblyman who represented Westchester County, Richard L. Brodsky, knows the Russian community; his grandparents hailed from Kiev and Odessa and had built a grand synagogue in Russia. In 2010, Mr. Brodsky ran for attorney general in the Democratic primary. He lost badly, winning four Assembly districts: his own and three majority Russian districts in south Brooklyn, where he had carried the Davidzon endorsement.
"They are existentially angry," he said of the Brighton Russians. "They found that the Republicans and Democrats don't have friends; they have interests.
"This was a coming-of-age tale that turned out badly."
THE news media sometimes describes Mr. Davidzon as "a Russian media mogul," although in person he's not so mogulish. No Volga Viking, he is a bit portly, sporting a sheepish grin and a shaggy haircut. He speaks in a perpetually hoarse whisper. Only his probing brown eyes, alternating between sad and steely, hint at more.
Davidzon Radio sits on the second floor of a faceless building. Artificial Christmas trees and Balinoff Vodka calendars decorate the offices. Mr. Davidzon says the station breaks even, maybe. He pours money from his profitable Russian-language newspapers into the station; this may have left him more influential than wealthy.
How is your business? He hikes his eyebrows.
"Could be worse," he said. "Radio station is not a business; it's tool."
Fifteen years ago, few claimed riches here. Brighton Beach Avenue, with its Cyrillic-lettered signs, dowdy clothing stores and grocery stores selling mountains of sausages, pickled vegetables, smoked fish and prepared borscht and pirogi, all in the cool shadows of the elevated subway tracks, had the feel of a shtetl.
That world is fast disappearing. Now, the light pink Oceana condominium complex, with its pool, sculptured gardens, balconies and $1.7 million penthouses, dominates the east end of Brighton. Walk 10 blocks farther, to Sheepshead Bay and Manhattan Beach, and you'll find Russian buyers tearing down old homes and putting up sprawling affairs designed in the Roman Imperial style, with massive bronze crests, spiked gates and enough marble to empty the quarries of Carrara.
This Russian émigré community, thick with doctors, lawyers and scientists, has come into its own. Mr. Davidzon lives in a two-bedroom apartment in a pleasant apartment building east of Coney Island Avenue. He has a stuffed plush tiger, some ornamental dolls in a case and a handsome living room.
He was born in Tashkent, in what is now Uzbekistan, and moved with his mother and geologist father from place to place in the dying days of the Soviet empire. He was a science student and an inventor, matriculating at good schools and applying for patents. "Jew" was a word that Soviet bureaucrats all but hung around his neck.
"I would submit scientific articles in English, and it would come back in mail delivered by KGB," Mr. Davidzon recalled. "It was very difficult economically. For me, Soviet Union was a jail."
He immigrated here and took a computer tech job at Baruch College. Was he anxious about starting over? He shrugged, smiled. He's one immigrant among many; why do you ask. "I was a father of two, with a wife, new to this country," he said. "Of course I was anxious."
He made friends, black, white and Asian, and took no vacations. (Time off makes him edgy, he said.) Inventor, entrepreneur, scientist, he's a man perpetually playing four angles and eight projects.
"He's a character on levels I'm probably not even aware of," said a politician who has known him for years. "He'd be a character in Moscow, much less in New York."
He came to his radio empire almost off hand. His daughter, an opera singer, was in a competition, and he showed up. "I realized I liked the business," he said. "I asked the owner, 'What do you want …' "
Yelena Makhnin, wiry and sharp-eyed, with a wry smile, is executive director of the Brighton Beach Business Improvement District. "I remember that day he was looking around," she said. "I know Gregory. He is a very fast learner."
He plunged the radio station into politics. He had a daily show, conducted voter-registration drives on the boardwalk and ran campaigns — 18 in all. "For those who cannot speak English well, it's not just about politics," he said. "It makes us full American citizens."
He's not a Putin-level potentate. The Hasidic Satmar of Williamsburg and the Lubavitchers of Crown Heights vote based on the divinations of a grand rebbe. Not the Russians.
"You can't just tell them: Vote this way," Mr. Davidzon said. "No, no, no. If they don't believe you, they kill you. But if you convince and they believe, they vote in bloc."
EARLY January, cold and dark and damp, and the doors of the Baku Palace swung open to Brighton and Sheepshead Bay royalty. Men in tuxedos and women in shimmering, form-fitted dresses swept into a purple-lighted ballroom, where Gregory Davidzon celebrated the seventh anniversary of his station.
Platters of the fillets known as langet, chicken à la Baku and blintzes with black caviar were piled high on the tables. A disco ball twirled, and onstage, between silver Christmas trees, a singer with a mohawk spike of blond hair, dressed in tight white leather pants and wearing a black glove, twirled and moonwalked, singing a Kiev-meets-Michael Jackson version of "Thriller."
Mr. Davidzon spun like a pinball from couple to couple, pressing hands, leaning in to tell a joke or listen to one, and thanking, thanking, thanking. Assembly and Council representatives showed up, as did Mr. Markowitz and Mr. Liu.
For months, federal prosecutors have been circling the comptroller, making arrests and examining with forensic care his fund-raising operation. Again Mr. Davidzon shrugs.
In this young Chinese-American politician he sees a mirror image of his own consuming hunger and drive. He endorsed Mr. Liu over three Jewish candidates in the 2009 Democratic primary for comptroller. In the runoff, Mr. Davidzon doubled down on his endorsement. The 46th Assembly District covers the thumping heart of Brighton Beach. Mr. Liu, of Queens, edged out David Yassky of Brooklyn, who is Jewish, in that district, and won decisively citywide.
Mr. Davidzon grinned and said, "Some election districts in Brighton, it was zero for Yassky." He made a circle with thumb and forefinger and repeated: "Zero."
Mr. Davidzon refuses to toss over Mr. Liu. "If Chinese people did something wrong, it's because their community just started in politics," he said. "It's like a game they don't understand fully."
Mr. Davidzon owes his success to a precise understanding of his political landscape. He lives in an age of political dinosaurs, not the least the Brooklyn and Queens Democratic Party machines. County leaders have become distant figures. They are behind-the-curtain players, handpicking candidates, drawing district lines, appointing judges and ensuring that court assignments go to connected lawyers.
Their weakness is on display only on Election Day, when they can rally few of their troops. When Mr. Weiner was forced to resign, the Queens Democratic bosses selected a longtime and obedient soldier to take his place: Assemblyman Weprin.
County, state and national Democratic leaders sluiced hundreds of thousands of dollars into Mr. Weprin's campaign coffers. Much of that money, more thany $170,000, went to consulting firms closely aligned with the Queens Democratic machine. Evan Stavisky, partner in a political consulting firm called the Parkside Group, ran the campaign. A few weeks before the election, Mr. Stavisky boasted of the "the most robust field program that's ever been conducted in Queens County."
Mr. Turner, the Republican, raised far fewer dollars. But he ran everywhere, sewed up Orthodox communities and gave about $40,000 to Mr. Davidzon, who treats his endorsements like blood guarantees. "I believe I could have made more from Weprin," Mr. Davidzon said. "But Bob had energy; he was for less taxes, less bureaucracy."
Mr. Turner swept the Russian sections of south Brooklyn by at least 2-1.
The victory seemed to herald a new age of Russian political power. But instead it may seal the community's redistricting fate. The Russian political players of south Brooklyn take pride in their unpredictability, as they toggle between parties from election to election.
The career politicians who draw political lines view electoral unpredictability as kryptonite. Why create a Russian district in the State Senate when Russian voters could as easily swing Democratic as Republican?
Gary Tilzer, a journalist and political consultant, has worked with Russian-American candidates for more than a decade. He watches as the community's leaders struggle for minor concessions like Russian-language ballots.
"This is a tragedy," he said. "They work very hard and produce lots of votes, but the parties treat them like serfs."
The Russians now move in several directions at once. Mr. Davidzon and Assemblyman Alec Brook-Krasny, a Democrat and a Russian-speaking immigrant who owes his own election to Mr. Davidzon, are putting shoulders to the wheel for Mr. Fidler in the coming Senate election. Others — doctors, lawyers, professors — talk of creating Russian Jewish political action committees and deploying money carefully.
"As our people move away from the central ghettos, our bloc voting power diminishes, but our economic power grows," said Daniel Igor Branovan, a physician and an influential force in this new segment of the community.
Once Mr. Davidzon himself dreamed of running for the State Senate in a majority-Russian district. His prospects are no longer so clear. He speaks English with a heavy accent. His business world remains bound up in the Russian community.
For all his political acuity, he has yet to register to vote. So what does his future hold?
He offered that shrug.
"I think about running, yes," he said. "But where? For what? In my life, I change my environment many times. I was in Russian, scientific, media environment. Maybe time to try political environment."
But has his time slipped by, as he works so hard? He often calls his friends and allies in the morning's early hours and talks and talks. Mr. Brook-Krasny's furnace burns hard, but when that phone rings, sometimes his friend exhausts even him.
"I say, 'Gregory, it's 3 a.m.; go to sleep,' " Mr. Brook-Krasny said. "He tells me: 'But it's my life. I can't stop.' "